It can be very frustrating to put effort into regularly cleaning natural stone floor tiles without achieving effective, long-lasting results. This recent customer of mine, who lives in the beautiful city of Durham in north east England, had attempted to maintain the appearance of her Travertine tiled living room floor but it had, nonetheless, become dull and lifeless in many areas.
The customer's choice to use a steam mop regularly had caused more harm than good, as the steam damaged the sealer and exposed the stone to ingrained dirt and stains. I was asked to restore the floor back to its original condition and provide advice on the correct cleaning techniques and products for aftercare.
Cleaning a Dirty Travertine Tiled Living Room Floor
To begin the restoration, I used our Tile Doctor burnishing system, which consists of applying four different diamond encrusted pads to restore the sheen to the stone and rid it of any dirt. Starting with a Coarse grit pad to grind away the dirty layer, I subsequently moved on to the Medium and Fine grit pads to gradually polish the floor. Each pad is applied with water to help lubricate the process and the resultant soil is rinsed off after each pad application.
Next, I cleaned the grout carefully using Tile Doctor Pro-Clean with a stiff grout brush, Pro-Clean is a strong alkaline cleaner that works really well on grout. The floor was left to dry overnight.
Returning the following day, I applied the fourth and final burnishing pad which is a Very Fine 3,000 grit to achieve the best possible sheen. Water is liberally spayed onto the tile during the application of the last pad in what we call a Spray Burnish action.
Sealing a Travertine Tiled Living Room Floor
The final step of the restoration was to seal the tiles. I did this using two coats of Tile Doctor Colour Grow, our impregnating sealer which not only protects the stone, but also rejuvenates its appearance and colour. I then gave the floor another quick buff with a white buffing pad for good measure.
After completing the work, I gave the customer some advice on aftercare. I recommended that she use Tile Doctor Stone Soap in combination with warm water for future cleaning as it is not only reliable, but also helps to maintain the natural patina of the stone. The solution should be gently mopped onto the floor.
As you can see from the after photos, the work made a huge difference to the appearance of the Travertine tiles and the customer was very happy with the finished result.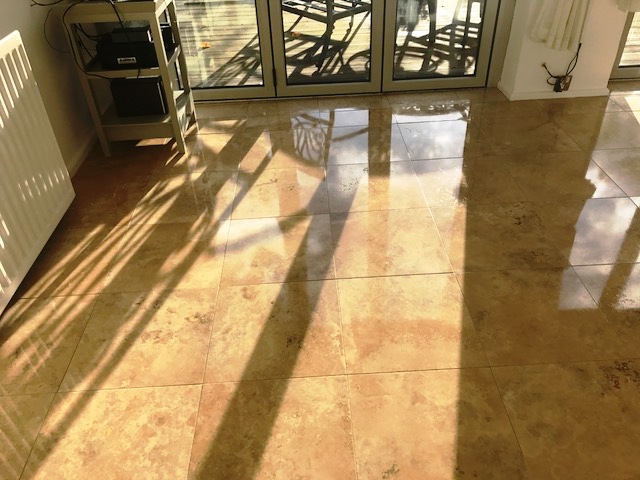 Professional Tile Cleaning, Polishing and Sealing for a Dirty and Dull Travertine Living Room Tiled Floor Restoration in Durham
Dull Travertine Tiles Polished and Sealed in Durham